As part of our blog series on the Restoration and Renewal of the Palace of Westminster, Dr Richard Simmons, Visiting Lecturer at the Bartlett School of Planning, UCL and Designing for Democracy Advisory Board member, discusses how to design a safer parliament.
It would be a brave person who proposed an extension of the brief for the R&R programme. It's already a massive project. Sadly, though, we may need to be brave. The attack on Parliament by Khalid Masood on 22 March 2017 reminds us that one dimension of the Palace of Westminster that needs urgent renewal is physical security.
Successful terrorist attacks on Parliament are not new. On 24 January 1885, bombs planted by Irish rebels exploded in the Commons chamber and Westminster Hall. They severely injured two police officers who were trying to remove the latter from the building. They caused extensive damage. On 30 March 1979, Airey Neave MP was assassinated by a magnetic bomb that blew up his car as he was driving out of the underground car park beneath New Palace Yard. Neave was another victim of Irish republicans. New Palace Yard was also the site of Masood's incursion into the parliamentary estate.
What seems to make Masood's attack different, on evidence made public by the end of March 2017, is that he apparently acted alone, so that his intention to attack was almost impossible to detect. It appears to be part of a relatively new tactic, where terrorists move away from complex grand gestures towards smaller, simpler missions that still shock, but also have the potential to undermine public confidence that terror can be contained. Also different is that Parliament is now ringed by CCTV, armed police and other security, none of which prevented Masood from crashing a car into the perimeter wall and murdering a police officer in New Palace Yard.
Where prior detection is unrealistic, good physical protection becomes all the more important. Reviews of various aspects of parliamentary security have been announced since Masood's attack. The reviews face difficulties:
It has been said that Carriage Gates, the entrance to New Palace Yard, was identified as vulnerable in previous security reviews. Once breached, an attacker is inside the parliamentary estate (though there are further physical and human security measures beyond the gates). Because of the volume of essential traffic passing in and out, and the crowds of tourists thronging the pavement, it is hard to maintain an absolutely secure perimeter at that point.
MPs and peers are accountable to the public. They are, understandably, reluctant to fortify Parliament to an extent that appears to reduce their accessibility to us, their constituents.
Nobody wants to be seen to be giving in to terrorists.
Physical security measures have to be paid for with taxpayers' money. They aren't cheap. Nor are MPs keen to be seen spending public money on themselves.
A design perspective
To see the consequences of these difficulties, one only has to look at what has emerged from previous security reviews. So far as physical measures go, the response is usually to install substantial, thigh-high black steel and concrete barriers of the type that can be seen on St Margret Street, snaking past Parliament's Cromwell Green entrance and Old Palace Yard. These are designed to prevent unauthorised vehicles from penetrating the perimeter and to channel legitimate cars and pedestrians through checkpoints. At Windsor Castle and Buckingham Palace, this type of barrier has now been joined by brutalist heavy duty bright yellow steel arches to prevent drivers from mixing it with pedestrians.
Many of these features have a temporary look but, as we have seen on St Margaret Street, they tend to become long-term intrusions into the public realm. Naturally, I am not suggesting that we should object to essential security – but the people who intrude these monstrous objects into our built environment don't seem to have a sense of how to design a place to be both safe and attractive; both respectful of its historic context and robust. They will no doubt argue urgency, economy and utility in their defence. These are good arguments for short-term interventions. They do not hold so well as months stretch into years.
I find this surprising. When I was CEO of the Commission for Architecture and the Built Environment, we worked with the security services on ways to make really strong physical security that was attractive and looked natural in the streetscape. So did the Royal Institute of British Architects, which published sound advice in its RIBA Guidance on designing for counter-terrorism  There are excellent examples, close to the Palace of Westminster, where extremely tough physical protection for government buildings has been installed, that looks attractive and architecturally fitting for the protected buildings. One can only assume that limited space around the Houses of Parliament and the difficulties listed above have prevented the installation of better designed counter-measures.
An opportunity, not a threat
I want to propose that we should look at Khalid Masood's appalling wake-up call as an opportunity to create a better place. To design a setting for the Houses of Parliament that is safer and more in keeping with the dignity of its architecture and the offices of those who occupy it. The principal elements of this proposal are:
Remove traffic from St. Margaret Street and Abingdon Street as far as Great College Street.
Construct a new outer perimeter wall and railings in front of New Palace Yard, on what is now St. Margaret Street. This would enable a suitable 'air lock' to be provided for vehicles to be checked within the extended precincts of Parliament.
Build a similar wall and railings in front of Old Palace Yard, again allowing for appropriate control of vehicles.
Design new pedestrian access points on this perimeter.
Proceed with the previously much mooted redesign of Parliament Square, to make it a public space worthy of its position at the heart of our democracy.
This would, of course, be a great opportunity to showcase British design, at a time when we want to broadcast our expertise to the world. Railings by Thomas Heatherwick, anyone?
This may all sound crazy, needing unprecedented collaboration between the Mayor of London, Transport for London, the government and Parliament: but taking traffic out of St. Margaret Street isn't a new idea. Urban designer Gordon Cullen proposed it in 1949 in response to the County of London Plan (http://bit.ly/2nADejC). Ken Livingstone, as Mayor of London, commissioned designs for the re-landscaping of Parliament Square. They were quashed in 2008 by his successor, Boris Johnson, allegedly because of fears that motorists would object to losing this link in the through-route along the Embankment.
Traffic would certainly have to take second place to security, pedestrian comfort and beauty if this idea was to be developed. We can note, though, that the sky did not fall in when the north side of Trafalgar Square was pedestrianised. Drivers find other ways in a city as complex and rich in connections as London. Parliamentarians might like to ask themselves what is the biggest physical barrier between them and their public. The traffic in St. Margaret Street scores high on the list of candidates.
In the end, though, it's about priorities. Do we want a growing accretion of ugly anti-terrorist kit cluttering the environs of one of our most iconic buildings, vying with polluting traffic to desecrate what should be an extraordinary nexus between Westminster's Abbey and Palace? Or are we brave enough to show the world that we can combine elegance, security and democracy in a proud celebration of British creativity?
Biography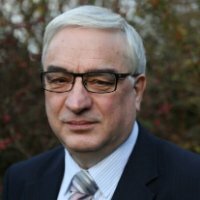 Dr Richard Simmons is a Visiting Lecturer at the Bartlett School of Planning, University College London, and a consultant and speaker on urban design, planning, regeneration and public space. Dr Simmons was previously Visiting Professor of City Design and Regeneration at the University of Greenwich, and between 2004 and 2011 was Chief Executive of CABE (the Commission for Architecture and the Built Environment). He is a member of the Advisory Board for the Designing for Democracy research and public engagement programme coordinated by the Crick Centre.
Notes: this article gives the views of the author, and not the position of the Crick Centre, or the Understanding Politics blog series. To write for the Understanding Politics blog series please contact crick@sheffield.ac.uk