Hendrik Wagenaar and Barbara Prainsack discuss the conflict between junior doctors and the government over contracts.
Even for a country with a less than happy history of industrial relations, the extended, bitter controversy over the contracts for junior doctors – who make a third of the workforce of doctors in the National Healthcare Service (NHS) – is remarkable. For several months, the government has been "in talks" with representatives of junior doctors over changes to their contracts. Instead of getting closer to a compromise, both parties have dug in further and further. Overwhelmingly, the onus of the failed talks and the alienation of the junior doctors has been laid at the feet of the government. Health Secretary Jeremy Hunt has become another symbol of the intransigence of the Tory government. Now that a new contract for junior doctors has been imposed, a number of hospitals will resist its implementation, and the British Medical Association is considering their options, including a legal challenge to Hunt and further industrial action.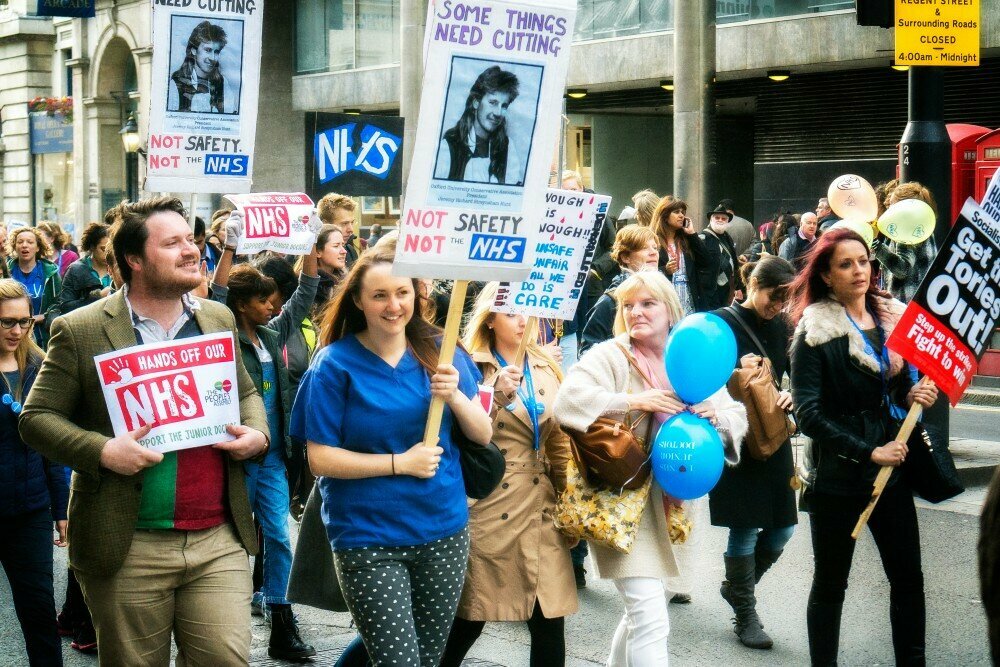 Image courtesy of Garry Knight via Flickr
There are several explanations for the conflict. The first one is that the imposed changes to the contracts of junior doctors are yet another manifestation of the government's austerity politics. By obliging junior doctors to work Saturdays for similar or less money, the government seeks to make good on its pledge to improve healthcare services during weekends without increasing healthcare budgets. A second and more sinister explanation is that the fight with junior doctors is part of a larger plan to starve the NHS to make it more attractive for private industry buyers. Big chunks of the NHS have already been privatised in this way. This strategy is an integral part of a neoliberal ideology of creating a minimal, 'night watchman' state by transferring as many public services to the corporate sector as possible.
But there is a third explanation. It has been overlooked by almost all commentators. It can be gleaned from a little noticed speech that Hunt gave in the context of a party conference in autumn last year. In this speech, Hunt emphasised the importance of preparing for some of the biggest challenges that healthcare has ever been facing. What are these biggest challenges? He must surely have been talking about ageing societies and the increasing number of people who live longer with a greater number of chronic health conditions? Or perhaps about the uncontrollable spread of obesity or diabetes? No, he was talking about replacing doctors. After speaking to digital technology visionaries in Silicon Valley, Hunt was convinced that once we have successfully implemented precision medicine, we won't depend on human decision makers anymore. Computers can do it better. 'If you talk to technology gurus in California and ask what's going to change in the next two decades', Hunt explained, 'they say "in 20 years' time, no doctor will ever give a diagnosis". They say "You can get three hundred thousand biomarkers from a single drop of blood, so why would you depend on a human brain to calculate what that means when a computer can do it for you?" I think it's really important that we're ready in the NHS to harness the power of data to give us more accurate diagnoses.'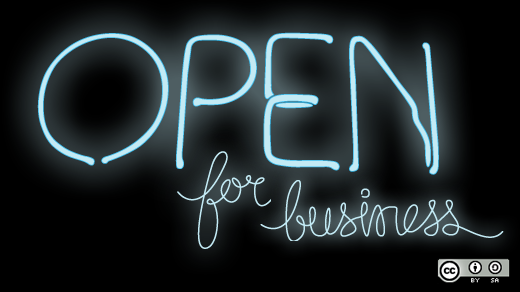 Image courtesy of opensource.com via Flickr
Just pause for a second. It seems that the Health Secretary is playing the long game here. He is envisioning a future where the national healthcare system is no longer reliant upon highly paid, fallible humans. Instead, it will be driven by digital data, computers and algorithms developed and managed by corporate actors. Sure, even in Hunt's vision, doctors will not be fully replaceable: they will still be needed for tasks that machines can't do, including translating the advice of digital decision aids into treatment decisions, and explaining things to patients. But we will need much fewer doctors, and we can pay them much less.
Against this backdrop, some other developments suddenly start to make sense: the British Medical Association (BMA) is warning that the government's one-sided imposition of a contract on junior doctors could lead to an exodus of doctors from the NHS. Far from this being a negative unintended consequence of hard nosed government action, this would be another step towards the Health Secretary's goal of a low-cost and low-doctor healthcare system.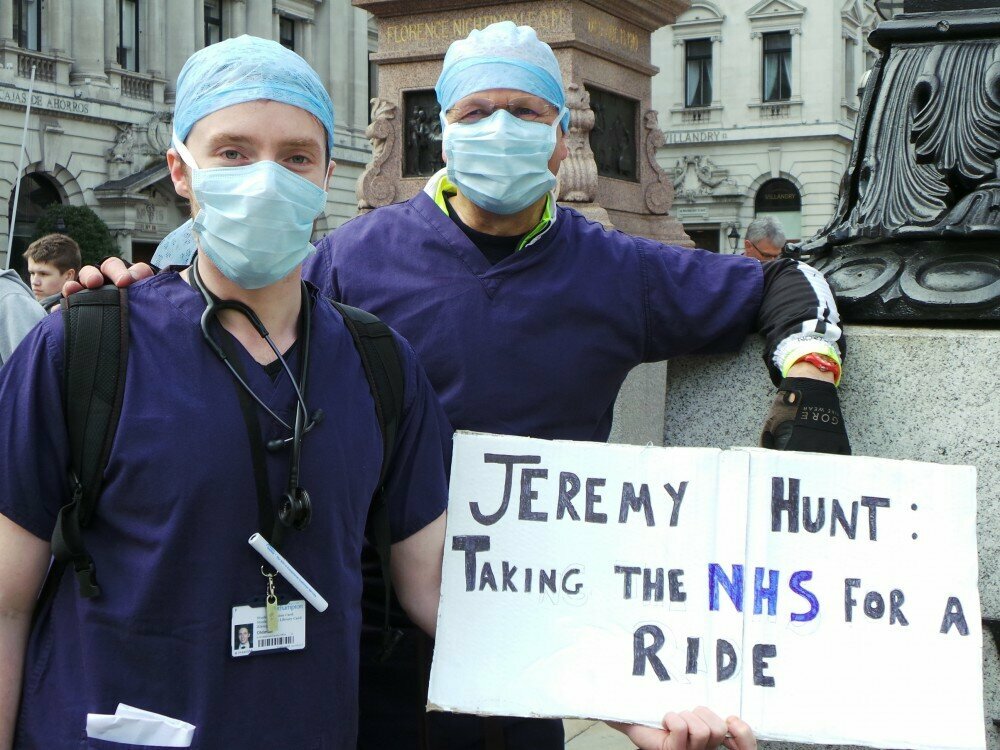 Image courtesy of Garry Knight via Flickr
Hunt's vision is problematic for numerous reasons. First of all, the UK's history with outsourcing public services is downright disastrous. As researchers from the Manchester Centre for Research on Socio-Cultural Change have documented, in areas as diverse as prisons, energy, rail, adult care and detention centers for asylum seekers we are witnessing a massive transfer of public money to private corporations, a serious decline of the quality of essential services, and the intrusion of the extortionist practices of the finance industry into the public sector. Deceit and the failure to deliver agreed-upon services are regular occurrences, and a further erosion of public expertise and democratic accountability seems inevitable. Second, the Health Secretary's speech reveals a remarkably naive reductionist belief in the powers of digital technologies. As Lisanne Bainbridge's classic 1983 article on "The ironies of automation" already pointed out, algorithms are an unfit replacement for human decision making for any but the simplest tasks. A drop of blood analysed by a computer will never replace the expertise of a human doctor navigating diagnostic ambiguity and uncertainty, not to mention the choice of treatments that are tailored to patients' needs in a more than minimal technical way. It seems that the Health Secretary has engaged in negotiations with junior doctors in bad faith all along. His real goal is to get rid of them in the service of a privatised health care system delivered by computers and robots.
Biographies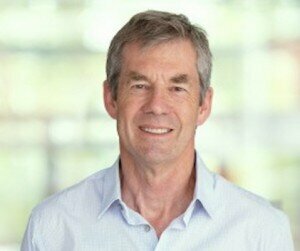 Hendrik Wagenaar is a Professor at the Department of Urban Studies and Planning and Associate Director of the Crick Centre, both at the University of Sheffield. Follow him on Twitter: @SpiritofWilson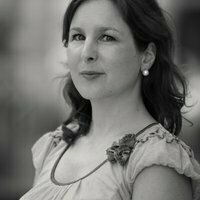 Barbara Prainsack is a Professor at the Department of Social Science, Health & Medicine at King's College, London. Follow her on Twitter: @BPrainsack
Note: this article gives the views of the author, and not the position of the Crick Centre, or the Understanding Politics blog series. To write for the Understanding Politics blog, email us at crick@sheffield.ac.uk