In part two of his exploration of a British constitutional convention, Titus Alexander from Democracy Matters looks at how a constitutional convention might work in practice. He begins by looking at how a convention could be created with broad public support, and then outlines what it might include.
 Despite the general election not resulting in  the hung parliament  many predicted, a constitutional convention is still incredibly important. With an EU referendum on the cards, and a renewed mandate for the SNP, a constitutional convention could be a way to solve many of Britain's political problems.
A convention should involve people at a local level in a national debate about creating a constitution that works for all, using new technologies and new forms of outreach and deliberation. This means a properly resourced process.
I suggest three stages:
An informed public debate over at least six months, with the emphasis on education and engagement about the current constitution and the purposes of a convention: why do we need it? What are its aims? And who would it consist of? The debate would lead to terms of reference and organisation agreed by parliament.
Formation of a convention and public deliberations over 12 to 18 months, leading to recommendations to parliament.
A public debate over four to six months and a referendum on the result.
The LSC's crowd sourcing approach could play a role, with active facilitation to involve thousands of people, as well as town meetings and outreach to the six million or so people not registered to vote.
However it is done, it needs a clear time table and terms of reference, so that the process is long enough to engage people, but not so long that it gets lost.
A short document along the lines of the summary paper on the UK Constitution by the Political and Constitutional Reform Committee is a good starting point, but it needs more options, as developed by the LSE's Constitution UK project.

Paul Clarke [CC BY 3.0], via Wikimedia Commons
Michael Gove – The man now tasked with any constitutional changes?
Options for a modern British constitution
A modern constitution should include institutions fundamental to our way of life, such as:
The national health service, which has its own constitution, unknown to most people;
The BBC and its six principles;
Schools as foundations of a learning democracy;
Independence of universities as places of learning;
The security services and their accountability to Parliament
Independence of the Bank of England and the role of monetary policy
It should include principles of national life such as:
Social solidarity and insurance
Equality, based on the Equalities and Human Rights Acts
Environmental security and commitments under the Climate Change Act
Mediation, restorative justice and rehabilitation
Learning for democracy: every citizens should be able to understand how the system works and how to take part
Net neutrality: the internet as a public utility open to all
It should also take account of Britain's role in the world and interdependence of humanity, including institutions of global governance, their purpose and accountability.
It should consider new constitutional forms which recognise inter-dependence and self-government of countries and regions across the UK, with a new definition of sovereignty which recognises that every nation pools sovereignty to be stronger and protect the rights and freedoms of people within a complex, interconnected world. These options might include:
Devolved government of nations and regions
A Federal constitution
A 'council of the isles' including the Republic of Ireland and a new relationship with Scotland, Wales, Northern Ireland and regions
Independence for Scotland outside the United Kingdom
Finally, with the world changing so fast we need a Futures Council to take a long view, without direct political involvement. Members of the council would have long experience and insight in a wide range of disciplines, but it could also include young people, perhaps from the Youth Parliament. It would be appointed through an open public process, to which anyone could apply or nominate someone. Two examples of bodies like this are:
The World Future Council of 50 eminent global change-makers from governments, parliaments, civil society, academia, the arts and business
     2. The Elders, an independent group of global leaders brought together in 2007 by Nelson Mandela and chaired by Kofi Annan
Bio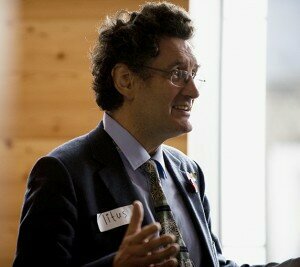 Titus Alexander is the Convener of Democracy Matters, an informal network of over 30 organisations promoting political education. Titus has a long history working in political education and citizenship, and as a result was asked to join the Crick Centre as an Associate Fellow. He can be followed on Twitter at @Tituscando
Note: this article gives the views of the author, and not the position of the Crick Centre, or the Understanding Politics blog series. To write for the Understanding Politics blog, email our editor Nicholas Try at ntry1@sheffield.ac.uk