The House of Commons has heard the views of a South Yorkshire mum, who has called for local people to be given more of a say in the decisions that affect them.
Tracey Cheetham, from Barnsley, was a participant in Assembly North, a pilot Citizens' Assembly held in Sheffield in autumn 2015. Her experiences were shared with the House of Commons by Graham Allen MP, who was leading a debate calling for a constitutional convention, to build on the work of the pilot citizens' assemblies.
Mr Allen spoke of the citizens' assembly pilot, and the work of the Crick Centre in his debate, saying:
…. there are dozens of organisations, thankfully, in the web of civic society who support our individual and political rights. They could design their own innovative means of participation to feed into the greater convention. For example, citizens assemblies, which we have seen springing up not least because of the efforts of Professor Matthew Flinders and his team at the University of Sheffield, have already produced a lot of information, interaction and development.
He went on to discuss Tracey's views of her experience:
Professor Flinders sent me a quote from Tracey Cheetham, who is a member of the citizens assembly north in Sheffield. After one assembly, she said:

"One thing was absolutely clear—and forgive me for stating the obvious—greater democratic engagement is vital to make devolution work effectively… We had a room full of people who were anything but disengaged or apathetic. Frustrated, curious and some angry about politics in general, but all determined to have a say."
Mr Allen added:
"What a mobilisation of people's political firepower to feed into our political system, and that is just one example of what we could do."
Watch Graham Allen MP discuss the Citizens' Assemblies.
The citizens' assemblies were organised by Democracy Matters, a consortium led by the Sir Bernard Crick Centre at the University of Sheffield, in association with the University of Southampton, University College London, University of Westminster and the Electoral Reform Society, and funded by the Economic and Social Research Council. The assemblies were the first of their kind in the UK, and the first  major attempt to explore the capacity of the UK public to engage in broad and complex areas of constitutional policy on a larger scale. The assemblies built on the concept of "deliberative democracy": group of citizens selected at random from the population (but 'stratified' to increase representativeness) to learn about, deliberate upon, and make recommendations in relation to a particular issue or set of issues. They are not politicians or representatives of civil society organisations or other groups—instead they offer regular citizens with opportunities to participate directly in decision-making, but also enabling those citizens to engage with the issues in a thoughtful and informed way.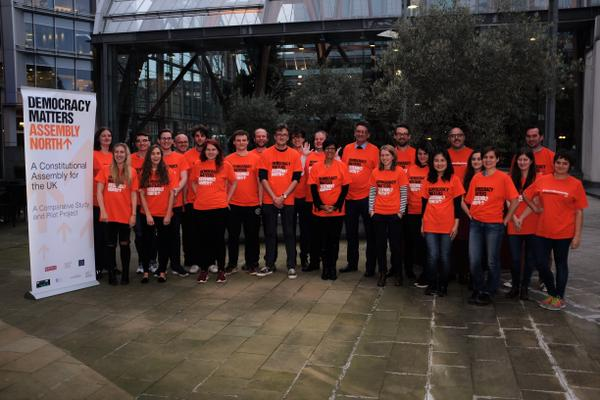 The Citizens' Assembly pilots were also highlighted in a new House of Commons Library  Standard Note briefing paper: Citizens' Assemblies and Constitutional Conventions.

More information