The final report of Democracy Matters, the research project led by the Sir Bernard Crick Centre for the Public Understanding of Politics, will be launched in the House of Lords on Wednesday 13 April. The report will set out the findings from the ground-breaking "Citizens' Assemblies" held in Sheffield and Southampton in autumn 2015, which gave members of the public the chance to examine and have their say on the proposed English devolution deals.
The Democracy Matters final report will be launched by distinguished representatives from all the main UK political parties, including:
Dominic Grieve MP (Conservative)
Graham Allen MP (Labour)
Tommy Sheppard MP (Scottish National Party)
Lord (Paul) 

Tyler

(Liberal Democrat)
Jonathan Edwards MP (Plaid Cymru)
Caroline Lucas MP (Green Party)
Suzanne Evans (UKIP)
Participants from the Citizens' Assemblies will also attend, alongside further MPs and Members of the House of Lords.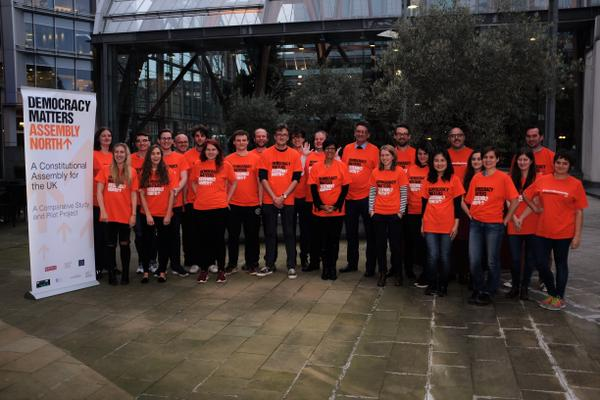 The first Citizens' Assembly was held in Sheffield on 17-18 October and 7-8 November. It was comprised of 32 citizens from the four local authority areas of South Yorkshire who discussed whether a new devolved regional body should be formed and, if so, what form it should take. A second pilot assembly ran over the same period in Southampton. The project was led by the Sir Bernard Crick Centre at the University of Sheffield, in association with the University of Southampton, University College London, University of Westminster and the Electoral Reform Society, and funded by the Economic and Social Research Council.
The success of Citizens' Assemblies suggests that, far from being anti-political, members of the public were very keen to engage in discussions about the future of the United Kingdom, in general, and about English decentralisation, in particular. Furthermore, the findings of project suggests that deliberative assemblies can deliver informed public engagement that can add value to the policy-making process and potentially bring added depth and legitimacy to the decision-making process.
Professor Matthew Flinders, Founding Director of the Sir Bernard Crick Centre, said:
"The Citizens' Assemblies demonstrated the huge potential benefits of deliberative democracy and the clear appetite of the public to have their say on our constitutional future. I am delighted we can take the results from the Citizens' Assemblies straight from the people of South Yorkshire to the parliamentarians of Westminster, and highlight the success of this democratic innovation."
More information about the Citizens' Assemblies project: