Location:
Seminar aims:
The United Kingdom has recently seen a spate of provocative art-interventions intended to challenge and reconfigure our thoughts and actions around a range of salient political issues. In June 2015, the Liberate Tate movement achieved national press coverage with its durational performance and gallery occupation, 'Timepiece'. One month later, the art collective, Space, Not Spikes, made headlines with their efforts to create makeshift beds and libraries as recuperation of public space and reaction to the growth of 'defensive architecture' in British cities. More recently came Dismaland, Weston Super Mare's very own bemusement park, complete with dead princesses, tattooed Wedgewood, police violence and pickled unicorns. The resurgence of socially and politically engaged art practice has not escaped the attention of galleries, museums and mainstream media institutions, leading to the revival of timeworn debates about the appropriate role for the arts. These debates reflect a strong concern that creative productions with a political agenda rarely make for good art. Our seminar is rather less concerned with institutionalist definitions of 'good art' and asks instead, whether and how art-activism can make for 'better politics'.
This one day creative venture organised by The Crick Centre, The Bare Project and RiotID as part of the ESRC funded seminar series "Exploring Civil Society Strategies for Democratic Renewal", aimed to bring together representatives of arts organisations, art-activists and academics to discuss the ways that art can foster political awareness, and/or active citizenship. It also closely considered the implications of art-activism for democratic political practice.
Not limited to the domestic sphere, the seminar/workshop is designed to foster critical engagement with the following set of questions:
What is the relationship between art and democracy?
What kind of role(s) can 'the arts' play in democratic renewal?
In what ways can art production/reception bring about new forms of political engagement?
What are the limits to this? In what ways does political art also work to neutralise critique and reduce democratic space?
On the streets or in the gallery: where is political art at its most effective?
What kinds of new possibilities and challenges do artists-as-activists face in the era of digital revolution?
Agenda: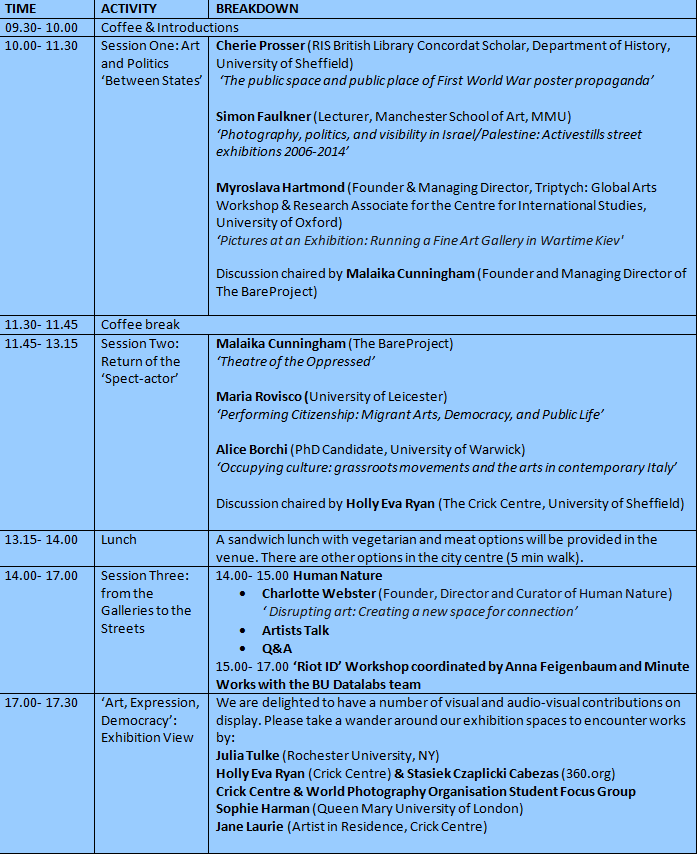 Resources from the event
Listen to an interview with Jane Laurie, Artist in Residence at the Crick Centre
Additional Resources:
Learn more about TheBareProject
Learn more about the #RiotID project