Evidence from the Crick Centre's Professor Matt Flinders and Alexandra Meakin has been cited in a new report from the House of Commons Public Administration and Constitutional Affairs Select Committee (PACAC): Better Public Appointments?: The Grimstone Review on Public Appointments.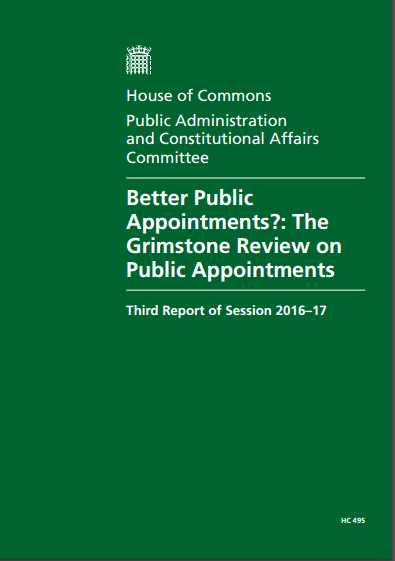 The Select Committee report followed a review of the way that appointments are made to non-departmental public bodies, commissioned by the Cabinet Office and carried out by Sir Gerry Grimstone. In the Crick Centre evidence we warned that the Grimstone recommendations risked "undoing much of the work completed over the last twenty years to restore public trust in ministerial appointments […] by giving the impression—correct or incorrect—that ministers are policing their own appointments".
In particular our evidence warned of the threat to public confidence in ministerial appointments from the recommendation to abolish the requirement for independent Public Appointment Assessors (PAAs) to chair the selection panels for all appointments of public body chairs regulated by the Commissioner for Public Appointments – and give this power to Departments, which we described as "a retrograde step".
The Committee agreed, and in its recommendation called on the Government to reconsider:
The Grimstone Review's proposal that Departments should appoint the independent panel member is a retrograde step. The Nolan report replaced variable Departmental practice with a central code for appointments and called for the introduction of a more consistent legal framework around appointments. The Grimstone reforms put this increased consistency at risk by granting individual Departments more power. The Minister is wrong to say that the Commissioner's involvement in selecting an independent assessor made him part of the executive. The Government should reconsider their stance on this issue, taking into account the representations that we have received from the former Commissioner and other commentators.
The Select Committee concluded:
… the Grimstone review threatens to undermine the entire basis of independent appointments. Rather than build on Sir David's work, it effectively demolishes the safeguards built up by Lord Nolan. The Government's adoption of the Grimstone proposals is very worrying. The Government must make significant changes to the proposals in order to robustly deliver a public appointments process in which the public can have confidence.
PACAC Chair Bernard Jenkin MP. Image courtesy of Policy Exchange, via Wikimedia Commons
Public appointments to non-departmental public bodies include posts such as the Chair of the UK Statistics Authority, HM Chief Inspector of Prisons, Chair of the BBC Trust and the Pensions Ombudsman. The Select Committee reported to the House of Commons on 7 July. The Cabinet Office will be expected to respond to the Committee's recommendations within two months.